Showing all 3 results
Biostable emulsion in all water hardnesses. Recommended for an extremely wide variety of machining operations. Steels and ...

An emulsifiable biodegradable fluid, for lubricating and wood sawing. PROBEOL EMULSCIE V is readily emulsifiable, and has a ...

An emulsifiable fluid for lubrication and dissolving sugar. A versatile fluid tailored to machining, greasing and ...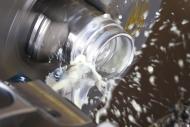 USINOV SERIE 3000
IGOL emulsions have been designed to meet the challenges associated with the most demanding machining operations (on alloy steels, aluminium, titanium and their alloys):
Extreme-pressure products
Formulations for soft/hard water
Special products for copper-based metals
Special products for aluminium alloys
Boron-free and/or amine-free products