Scooter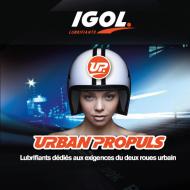 Download the product brochure here
Our range of lubricants dedicated to the requirements of urban two-wheelers is called URBAN PROPULS
It has become apparent that the time we spend travelling by car is more and more of an issue.
Getting around our growing city landscapes now accounts for a significant amount of wasted, anxious and stressful time.
Heavy pollution, parking problems and an ongoing search for savings mean that, today, scooters riders are no longer just trendy teenagers seeking autonomy and independence. They also include new fans who have decided to tackle the city differently.
IGOL has created URBAN PROPULS to handle this change and the growing number of scooters on the road. With IGOL, scooter maintenance is accessible to everyone, from beginner to experienced mechanic.
URBAN PROPULS offers a wide range of lubricants and related products to meet every need