Greases & pastes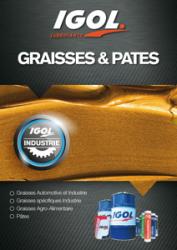 IGOL's broad range of greases meets the widely-varying requirements of numerous industries.
Versatile products suitable for multi-purpose use: special greases for demanding applications or harsh environments, greases for agri-business applications and biodegradable greases available in a wide range of packaging forms.
Extreme-pressure: ROULEMENT EP, ROULEMENT EP BIMO, INFU BIMO, TURBAX GRAPHITEE
Multi-purpose: POLYSER, PERFECT PLUS, SHP50, CODEX TR (NSF H1)
High temperatures: HTI 350 SF, RALLYE GREASE, PREMIUM GREASE, HTK 250S, GREASE MBF2, SYNTOGRAISSE BTX2
Water resistant: CALSEA GREASE, SELLETTES
Biodegradable: PROBEOL GREASE SHP50, PROBEOL GREASE G
Pellet presses and special agri-business products (NSF H1): GREASE FOOD 2, GREASE GRW, GREASE PAG
Special products: GREASE PTFE, SILIC 50, SYNTOGRAISSE 180 AL (NSF H1)
Fluorinated: GR FLUOX, LUBRINOX 2
High-temperature pastes: PATE AS 450, THERMO CONTACT, PATE TE 1000
A Complex Calcium Sulfonate - type lubricating grease.
Adapting to changes in the industry
IGOL's challenge for tomorrow is to keep on finding the right solutions.
More than ever, preserving manufacturer's guarantees is one of IGOL's priorities. That's why our online recommendations service is available:
Recommendations