Rallying: partnership with the FFSA
The French Rally Championship is the stand-out event organised by the FFSA (French motor sports federation) and is always graced by the sport's best drivers.
Every year since 1967, the French Rally Championship has been a highlight of the European rallying calendar.
Many drivers have established themselves in the sport with outstanding performances in this race, such as :
Didier Auriol, François Delecour, Sébastien Loeb and of course Sébastien Ogier.
Since the start of the 2014 season, IGOL has had the honour of being one of the FFSA's official partners
and of supporting the French Rally Championship every season.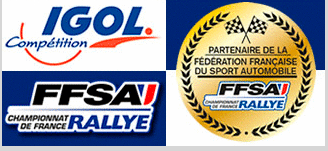 Read the summaries of each event (in French) and watch clips of the 2018 season…
And relive the highlights of the FFSA's previous seasons sponsored by IGOL.
As an FFSA partner, IGOL is able to offer a unique and VIP experience to a number of customers.
Would you like to join us at a Rally in the future?
Check out some exclusive images from one of our events.
This youtube video cannot be displayed since you did not accept Youtube's cookies.
Click here to view the video on Youtube's website.
Click here to edit your cookies preferences
Our drivers
Patrick Rouillard, an audacious driver who has been passionate about rallying for more than twenty years and Benoît Vaillant, a young driver brought up in the world of motor sports, are both proud to drive cars bearing the IGOL colours during the French Rally Championship races.
Patrick Rouillard
Patrick embodies the finest "amateur" traditions of rallying – modest, down-to-earth and plain speaking with a real love of the sport. With boundless energy, he races like he lives his life, at 100 miles an hour!
Away from racing, Patrick Rouillard is his own boss. For the last 30 years he has been in charge of his own garage, specialising in BMWs, in the outskirts of Toulouse. Indeed, it was at the wheel of an F series BMW, and later an M3, that he discovered motor sports in 1989.
For the last twenty or so years he has also been his own boss when it comes to rallying. He prepares and sets up his cars himself, with the freedom to act as he likes and supported by his team. The "Rouillard clan" – wife, children, family and friends all share the same passion.
Family traits:
He has passed down to his son, Nicolas, the same distinctive values and characteristics.
Patrick is competitive, enthusiastic, slightly impetuous, combative and tenacious…
His commitment and reliability make him the perfect match for IGOL. The branding is emblazoned proudly on Patrick's beautiful 993 GT CUP Porsche. The deep and menacing roar of its 470 hp engine is eagerly awaited by spectators both young and old during the special stages
of the rallies.
He never gives up and pushes himself and his car to the limits in pursuit of his goals.
Thank you, Patrick.
Benoit Vaillant
Originally from a small town in Picardy, northern France, Benoit Vaillant began his sporting career in horse riding but was forced to abandon the sport in 2004 after a serious fall.
Undaunted, he switched to karting and race circuits and soon started to win races.
By the age of 18, Benoit was ready to enter his first rally, encouraged by his father, himself a former driver, and by one of his friends. Whether its a C2 R2 Max, a Ford Fiesta R5 or a DS3 R5, this motor sports fanatic has unlocked the potential of every car he has driven. IGOL has supported Benoit Vaillant and his copilot Antoine Brulé since 2015.
At the press conference before the Cœur de France Centre Val de Loire rally in 2017, Benoit declared that he wanted to "bear the colours of IGOL with pride."