Showing all 8 results
10W-30

An oil for lubricating 4-stroke petrol engines in mechanised gardening equipment, particularly Honda brand. Good detergent ...

A synthetic lubricant specially developed for very high performance 2-stroke engines. Enables better combustion, keeps the ...

Semi-synthetic lubricants for 2-stroke engines in chainsaws, tillers and mowers. Prevents risks of tightening, with no ...

An anti-smoke lubricant for 2-stroke engines in chainsaws, tillers and mowers. Developed from oily and viscous synthetic ...

A semi-synthetic lubricant for 2-stroke engines. Comprising synthetic agents and selected additives, in order to augment its ...

15W-40, 15W-40, SAE 30, SAE 30

A lubricant for 4-stroke engines in mechanised gardening equipment. Particularly recommended for 4-stroke engines in ...

ISO 100, ISO 220, ISO 320

A lubricating oil for greasing chains used in professional chainsaws. - A smooth-flowing lubricant possessing outstanding ...

ISO 150, ISO 150

A special oil for greasing chainsaw chains. Smooth-flowing, oily and adhesive, specially designed for greasing chainsaw ...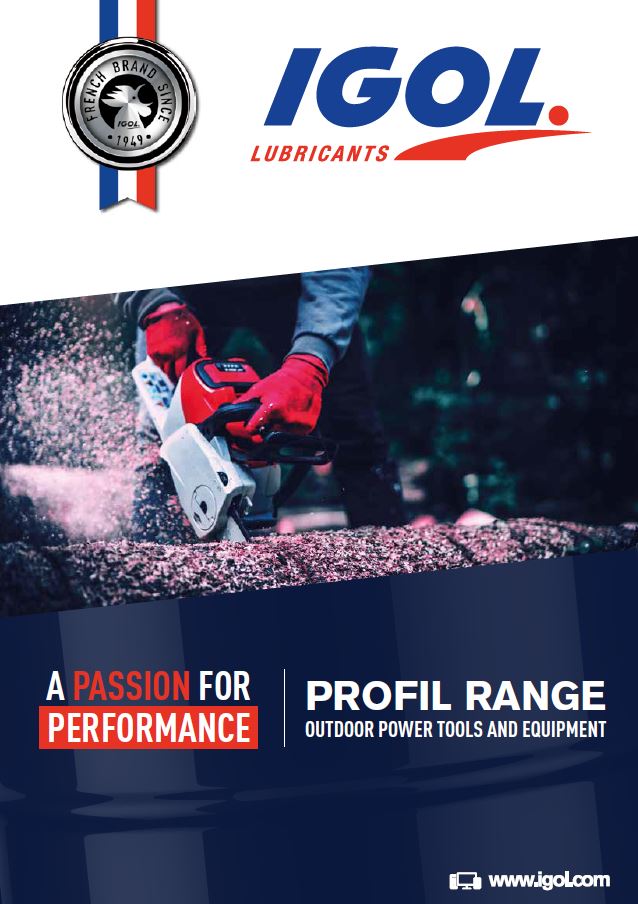 Buying a lawnmower or mini-tractor represents a major investment, yet an essential one for professionals or maybe even for homeowners.
Technology is also developing in the field of mechanised gardening equipment, for lawnmowers, chainsaws, hedge trimmers or the various engine types.
For mechanised gardening and forestry professionals, as well as for gardening enthusiasts, you will find the information necessary to choose between the various PROFIL range products, IGOL lubricants dedicated to mechanised gardening. The number one independent for greasing products, IGOL demonstrates its commitment to good practices in formulating and manufacturing its lubricants meeting the most demanding international standards.
And where does "BIO" come into all that ?
Today, biodegradable lubricants are becoming one of the vital operating components for equipment meeting the legislation in force, whenever they are in contact with sensitive zones. PROBEOL is IGOL's response to these concerns. So, for every use there is a lubricant solution.