Showing all 4 results
20W-50

MINERAL OIL, SPECIALLY FORMULATED FOR 4-STROKE MOTORBIKES AND SCOOTERS. Multigrade lubricant for petrol engines, made ...

10W-30

High Performance Semi-Synthetic Lubricant for 4-stroke Scooters. Formula developed specifically for small and ...

10W-40

High Performance JASO MB Semi-Synthetic Lubricant for 4-stroke Scooters Formula developed specifically for ...

5W-40

Fully synthetic JASO MB lubricant for 4-stroke engines of Scooters and Maxi-Scooters. This formulation from IGOL's R & ...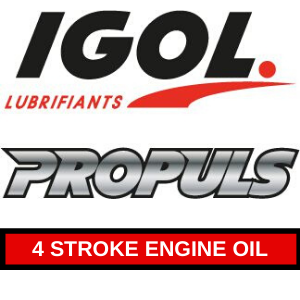 Our 4-stroke engine lubricants for SCOOTER are available in 4 viscosity grades according to manufacturers' recommendations :   5W-40, 10W-30, 10W-40 and 20W-50.
Formulas developed to meet the JASO MB standard required for the majority of scooters.
Lubricants particularly suitable for urban driving with frequent starts.
These specifications are detailed on each item in particular thanks to a PDF technical sheet to download to check the uses and conditions.