Showing all 4 results
10W-50

IGOL RACE FACTORY 0101 10W-50 is a 100% Synthetic Ester and PAO based engine lubricant, specially formulated for powerful, ...

5W-50

100 % synthetic oil. High-performance multigrade lubricant formulated from PAO and ESTER synthetic base oils, strong ...

10W-60

A high-performance, multigrade lubricant, specially designed for powerful and sporty engines driven hard at high speeds and ...

0W-40

Synthetic lubricant based on polyalphaolefin (PAO) and ESTER, with very low viscosity and high resistance to extreme ...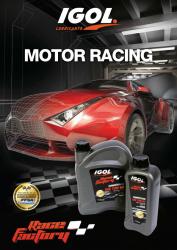 The new range of lubricants dedicated to motor racing
Born from the experience in rally racing and tested under the most extreme conditions, this new range of IGOL RACE FACTORY lubricants is destined to provide the hyper performance of sports and upscale vehicles : muscular thoroughbreds, built to face challenges.