Showing all 3 results
15W-50

Semi-synthetic oil. A multigrade lubricant for passenger vehicle petrol engines, reinforced by synthetic bases, particularly ...

20W-50

Mineral oil. A multigrade lubricant for petrol and diesel engines, developed from carefully-refined mineral oils and ...

30, 40

Monograde oil. A lubricant for 4-stroke petrol engines which prevents oxidation and reduces wear.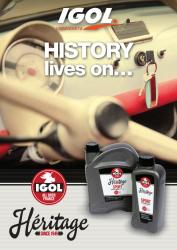 Multi-grade lubricant for vintage engine and collector vehicle
For over 70 years, IGOL has always spelled safety and guaranteed peace of mind. The HERITAGE range of lubricants blends the very spirit of those years of research and technical experience, serving performance and engine protection. With HERITAGE, IGOL today offers the answer in terms of lubricants fully adapted to the needs of fans of historical motors, vintage collectors or youngtimers.