Marine gear
Advantages
A special semi-synthetic lubricant for boat bases and transmissions.
Derived from IGOL's experience from numerous partnerships with boat builders, MARINE GEAR has special additives giving it outstanding extreme pressure properties, enabling it to be used in bases and transmissions, including those equipped with copper-based metals (non-corrosive action).
Alongside these exceptional properties, its shear strength, very low viscosity at low temperatures and very high viscosity index promote smooth cone engagement.
Discover more products
A lubricating grease made from a lithium and calcium soap base, plus refined mineral oils.…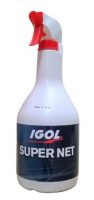 A power water-based cleaner for cars, motorbikes, water craft… Rapidly eliminates soiling, greasy stains, earth,…
A ready-to-use coolant, really top-of-the-range, high-performance, versatile, and fully compatible with all coolants and antifreezes…
Adapting to changes in the industry
IGOL's challenge for tomorrow is to keep on finding the right solutions.
More than ever, preserving manufacturer's guarantees is one of IGOL's priorities. That's why our online recommendations service is available:
Recommendations