Thermo contact

Download picture
Advantages
ELECTRICALLY CONDUCTIVE ANTI-SEIZING FITTING PASTE
Inhibits corrosion and rust induced at high temperatures
Protects against seizing
Lubricates at high temperatures
Anti-seizing paste with an aluminium complex soap, formulated to prevent seizing and corrosion. It eases the assembly and disassembly of parts subject to chemical or thermal effects. Thermocontact improves connection quality at electrical contacts. Lubrication from -30°C to +600°C.
Discover more products
A concentrated detergent, formulated specifically for washing and cleaning engines. Cleaning and overhauling engines. pH…

TYRE REINFLATOR Repairs and reinflates tyres with an inner tube or without (tubeless). Repairs and…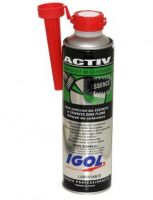 A new-generation high-performance additive usable for treating fuel in any petrol engine vehicle.
Adapting to changes in the industry
IGOL's challenge for tomorrow is to keep on finding the right solutions.
More than ever, preserving manufacturer's guarantees is one of IGOL's priorities. That's why our online recommendations service is available:
Recommendations